Revenue Cycle Management also known as RCM is the process from patient scheduling an appointment from front desk to provider/patient receives a payment from insurance company.
In this article let us see step by step process of Revenue Cycle Management.
Revenue Cycle Management Flow Chart:
In Revenue Cycle Management the role of Biller's, Coder's and AR Caller's plays a very important to ensure proper reimbursement.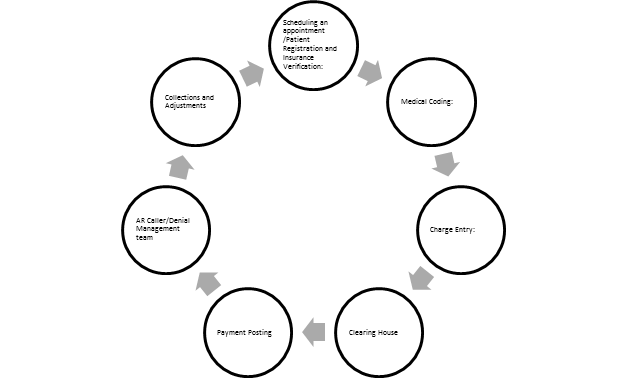 Scheduling an appointment /Patient Registration and Insurance Verification:
Whenever a patient wants to visit provider office, the very first step is to schedule an appointment from the front desk either through call/website/ walk in.
A front office executive collects demographic information and the insurance details of the patient. Once the information is collected, front desk executive schedule an appointment to patient after verifying the eligibility and benefits covered by the insurance.
During this process patient needs to sign the following important forms for further process:
When patient visit the front desk, then he/she has to sign the AOB (Assignment of Benefits) and ABN (Advance Beneficiary Notice) form, this authorizes the provider to bill the claim and reimburse the claim directly from insurance company.
In United States, under the HIPAA (Health Insurance Portability and Accountability Act) provider can't disclose the confidential health information of a patient to anybody.  However for getting the claims paid from insurance, provider needs to submit the details of health information of patient to insurance. Therefore patient has to sign ROI (Release of Information) form. This authorizes the provider to disclose his/her confidential health information to insurance company for reimbursement of claim.
After patient registration process, the next step is patient encounter with provider and explains the reason to visit the office and accordingly provider renders the treatment.  This encounter will be either recorded by using a super bill/voice recorder/virtual scribe. Medical Transcriptionist will convert this data in to healthcare provider documentation also called as medical records.
Medical Coding:
Medical Coding is the process of translating the Medical records of a patient encounter into a series of numeric or alphanumeric codes.
There are separate code sets to describe diagnoses and procedures. Coder's assigns the appropriate diagnosis code and procedure code along with modifier by determining the medical records/Charts and by the unique rules that administrate each code set.
Charge Entry:
After coding, Charge entry team assigns appropriate dollar value for each procedure code as per appropriate fee schedule.
Clearing House:
Clearing House scans all the information such as provider and patient demographics and forward electronic claims to insurance. Any errors in claim will be rejected and it will not be forwarded to insurance company for adjudication.
Payment Posting:
Once the claim billed out, insurance company either make payment to the claim or deny the claim and sent an EOB (Explanation of Benefits)/ERA (Electronic Remittance Advice) to the provider. Payment posting team job is to post the payment if the claim is paid or capture the denial into the provider application for further action.
AR Caller/Denial Management Team:
AR team is responsible to follow up on claims that are denied by insurance company for various reasons. AR team has to resolve the issues and bring payments from denied claim by taking appropriate actions.
Collections and Adjustments:
Any patient responsibilities in patient account are collected from patient by sending a statement to patient and any adjustments on claims needs to be adjusted by provider.