CHF ICD 10 – Congestive Heart Failure
Let us study about CHF, types of Heart failure, symptoms, diagnosis, CHF ICD 10 Codes and guidelines with examples.
Congestive Heart Failure (CHF) is a chronic heart condition in which the heart is unable to pump enough blood. It does not indicate that the heart has stopped working completely, instead the efficiency of heart has become less.
Terms Heart failure and CHF are used interchangeably. Hence coder needs to code to the highest specific type of heart failure with or without the word "congestive".
Types of heart failure
The types are based on which part of the heart is affected.
Left sided heart failure : This is the most common type of heart failure found in medical record. It is related to the pumping of blood by left ventricle. This can be either Systolic or Diastolic.
Systolic – It is also called HFrEF which means heart failure with reduced ejection fraction.
Diastolic – Another term for this is HFpEF which means heart failure with preserved ejection fraction.
Right sided heart failure : It is related to the pumping of blood by right ventricle.
Biventricular heart failure : This is a type of heart failure in which ventricles of both the sides are unable to pump enough blood.
Symptoms, Tests and Diagnosis
There may be one or multiple symptoms like shortness of breath, leg edema, fatigue, rapid heartbeat or chest pain. Doctor will verify the patient's medical history as conditions like CAD, angina, hypertension, heart valve diseases and diabetes are risk factors for heart failure. After doing a physical examination, physicians may do cholesterol check, BNP blood test, chest X-ray, EKG, stress test, CT scan, MRI or coronary angiogram.
CHF ICD 10 codes and guidelines
Most of the heart failure codes include in chapter 9 of ICD-10 CM manual, diseases of circulatory system, code range I00-I99.
Combination code – If patient has any type of heart failure and hypertension, it should be combined and coded as I11.0 eventhough physician has not linked both. It should not be coded combined if the medical record states the conditions are unrelated.
Heart failure should be coded additionally when coding I11.0
Do not code I11.9 (hypertension without heart failure) when coding I11.0 (hypertension with heart failure).
When coding biventricular heart failure (I50.82) it is necessary to code the type of left heart failure (systolic, diastolic, combined) also according to the "code also" note with I50.82
Decompensated or compensated heart failure should be coded as specific type as to systolic or diastolic, chronic or acute.
Go by Failure, Heart to find correct codes for heart failure in ICD-10 CM manual index.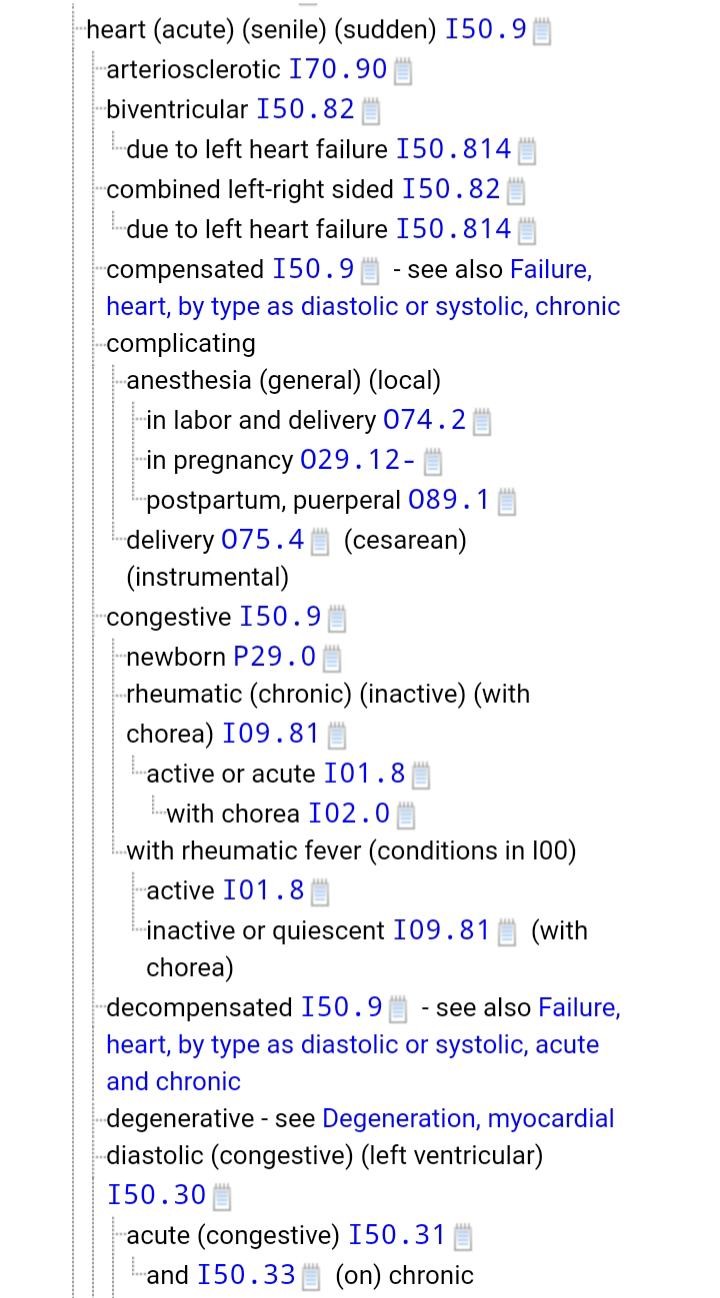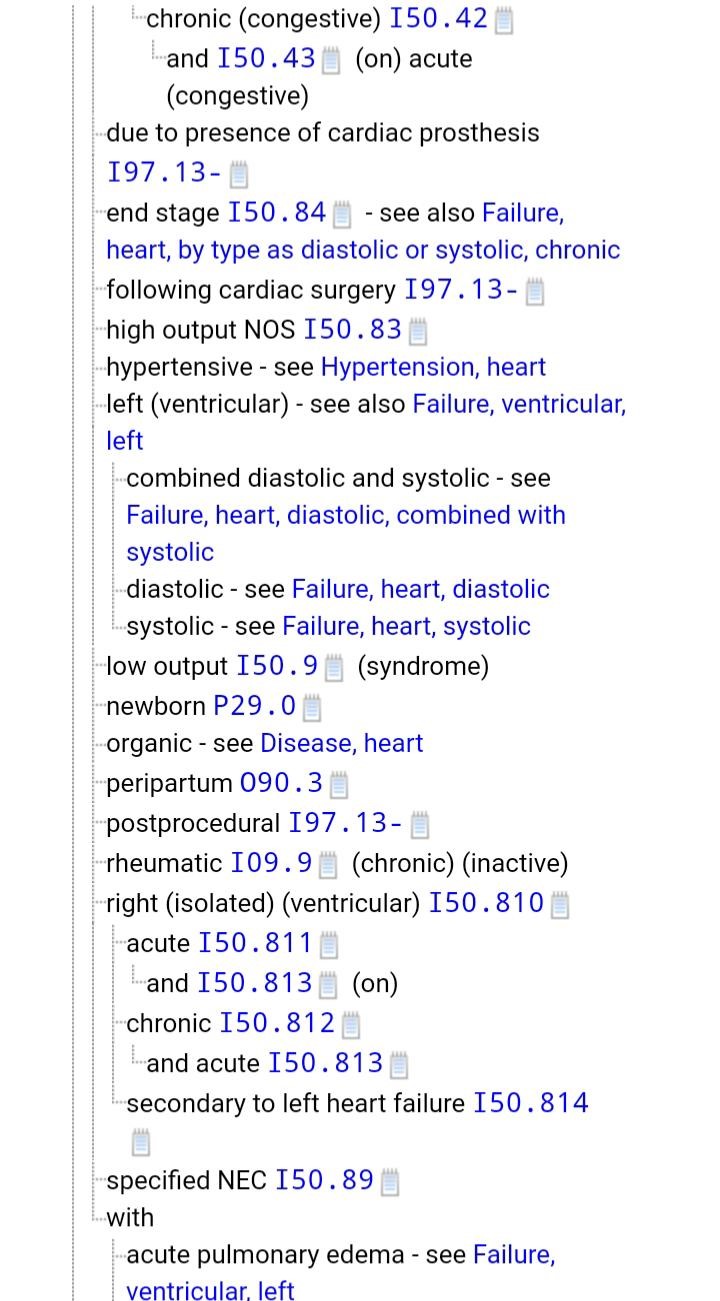 Look at the below scenarios to clearly understand the coding concepts of CHF.
CHF ICD 10 Code Example 1
Elizabeth is a 65 year old female who comes to emergency department for shortness of breath and leg edema from past 2 days. She came to visit doctor as the symptoms are getting worse. She has hypertension and takes Lisinopril for the same. She does not have chest pain or palpitation. She is not a smoker. Her family history includes heart disease for her mother and brother. Vitals showed temperature 97.3 F, heart rate 72 bpm, respiratory rate 25, BP 150/96 mmHg. Physical exam showed pitting edema on both the extremities, shortness of breath and dry skin. Physician ordered for blood tests, EKG and chest X-ray. This case was diagnosed as acute diastolic heart failure.
ICD-10 codes to be coded:
I11.0 – HTN with heart failure
I50.31 – Acute diastolic heart failure
Note: Hypertension and heart failure should be combined and coded as per guideline. Additional code for heart failure should also be coded. The word "congestive" is not mandatory when coding heart failure.
CHF ICD 10 Code Example 2
An 82 year old male comes for a follow up of CHF, diabetes, hypertension and CAD. He still continues to have slight radiating chest pain sometimes and leg edema. His medication list was reviewed which includes Lasix, insulin, carvedilol, Lisinopril and plavix. Due to edema he keeps legs on pillow while sleeping. His vitals showed slightly high BP of 135/90 mmHg. Physical exam showed cool clammy skin, palpitation and extremely edema. Blood Labs, Chest X-ray, EKG and an angiogram was performed to assess the case. Physician documented in final assessment as chronic HFrEF, CAD, Hypertension.
ICD-10 codes to be coded:
I11.0 – HTN with heart failure
I50.22 – Chronic systolic heart failure
I25.10 – CAD
E11.9 – DM
Z79.4 – Insulin use
Note : HFrEF is another name used for systolic heart failure.